We were in this country for so very long before we made it down to Roma.   So many other things were pressing…so many other places were closer.
And yet I felt the draw of Rome.   Allora — siamo andati a Roma.
We went to Rome.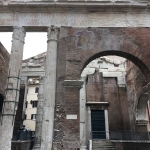 Another surprise…on our way from the train station to our hotel I was very moved by the very fact of being a Roma.   I cannot even explain it.
Non posso proprio.  I just can't.  But so many feelings.  Of all types.
Of course we ate good food — we went twice to a place which was vegan of exceptional ingredients and creative piatti.  It was a local place.    Filled with locals.  My favorite kind of place.
And also — there was a place where I could get fritto misto e una pizza — completamente senza glutine.  But not a place where they take a frozen crust out of storage and throw sauce on it and serve it to me (like so many — but I haven't complained…) this was a dough of rice and corn flour.  Formed and risen — and baked in a wood oven.  The sauce was thick and earthy with tomatoes, red wine, sun dried tomatoes.    It tasted, to me, like fire and sunshine.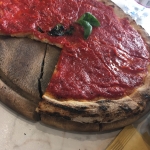 Yes, we went there twice as well.
So for now, enough of food.    But of Roma…
Of Roma…
Specifically, the only thing here that really drew me to it, surprisingly, was the Vatican.  I don't know why exactly — well yes, I do.  Places of strong religious significance draw me.   No matter which religion.
(Oh yeah — and the Trevi Fountain.  I began to cry when we were half a block away and could hear the splash of the water.  It was like seeing an old friend I had missed for so very long.  But I had never been there before.)
But il Vaticano — yes, there are so many reasons that I might not have seen it — but alas I did.  R had been there before so it was on my own that I went with a guide.  (And I think I have mentioned — I am not a "castle" kind of girl)
Yes, there were opulent rooms and the Pope's Garden (The Pope's Garden made me so excited!) and there was the hallway of the maps and the hallway of the tapestries….and lots of marble and pieces leftover from the Empire…but there were a couple things that specifically moved me and and couple that, again surprisingly, did not.
Of course you will want to ask about the Sistine Chapel.   Of course I was there.  It was — to me — nothing.   But standing outside of the doors of the Sistine, peering around the corner to the main stairway entering the Sistine… the stairs were wide.  They had mosaic inlays of black and white — and pendant lanterns on either side of each landing.   These are the stairs which the cardinals use when they enter the chapel.
These shadowed but illuminated stairs, partially hidden, these were for me, especially moving.   Così Commuovente!
I swallowed hard to dismiss the lump in my throat.
My guide pointed to frescos originally found in the grottos below the Vatican.   They were of disfigured humans, monsters.   These, she said, are from the grotto — we say they are 'grottesco'.  Grotesque.
Did you know that?  Did you know that the word "grotesque" means that it comes from below, from the 'grotto' and that the subject manner will be dark??  Because for me, again the Nerd, this was so cool!!!
Another fun fact I learned at the Vatican?  The cappuccini were the monks who were known for their brown, hooded robes.   After Roma won a war against the Turks, they took the Turkish coffee and added crema until it was the color of the monks' robes.  They called this drink "cappuccino", after these hooded robes.   Bakers made rolled breads in the shape of the "crescent" which was the sign of the Turks. These breads were eaten in victory with the caffè for breakfast in the spirit of victory.   These "croissants" with "cappuccini" became the traditional Italian breakfast — but they are, quite literally, eating their enemies.
In the modern art section of the Vatican before we entered the Sistene, I was surprised to see a Ben Shahn painting of Holocaust subject matter.    I was, in fact, so surprised that I mentioned it later to the guide.  She told me that it was a recent acquisition…and that the Pope had insisted on it.
Interesting.
I will return to this later.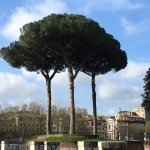 Now we are on a bus — heading to the Colosseo — the colosseum.   No, I don't want to enter, I tell R.  Yes, I am sure.  But it is when we are rounding the circo massimo (think Ben Hur) — we are in the street — per strada — and in the middle of the day — in the middle of the street a young man holding hands with his ragazza…suddenly embraces her and kisses her.
And oh my, that kiss.
We are off the bus.  We walk past the specific location where Caesar was killed by Brutus.   I don't know why.  This makes me so happy to be there.
Where I want to go next, I say, is the Roman Ghetto.
The story of the Roman Jews — which I will insert here, is that of a deal, a payoff.   A failed payoff.
The Nazi government told the Jews that if they gave all of their gold, reaching 50 kilograms, they could buy off the demands and could stay in Roma.   It is said that the Vatican also gave gold to "buy" the lives of the Roman Jews.  There is some controversy, in fact, as to whether their contribution was accepted.
But — despite this — on October 16, 1943 the Roman ghetto was emptied of its almost 2000 citizens and most were sent to Auschwitz.
Eleven survived.
(It is important to note that some were hidden… even in the Vatican.)
It was important to us to walk in this ghetto.   It is nestled among ruins of Roma antica.   Above the shambles of the old Jewish Theatre — in fact, built on top of them — are modern apartments owned by the oldest surviving families.
It was important to me to take R to the source of the Carciofi alla Giudia — the fried artichokes which originated in this ghetto.
So now we are sitting in a cafe…ordering the carciofi…and it is starting to rain.    I hear a violinist playing hava negila in the distance.
R disappears for a few minutes in search of un ombrella.
I see women wearing hamsas everywhere…  (here they are "mano di Fatima")  freely, no matter what their religion.
It is a dark cool day.
I am relieved that the carciofi — when they arrive — are identical to the ones I have been making — flavor, appearance, all.
Victory.
We walk over to the great synagogue.  There is a group of people standing outside.  They are all dressed in dark clothes.  They seem to be waiting for something.
We perch ourselves on a bench nearby to watch.   We are feeling melancholic.   (The information we have learned about this place is very sad).
A funeral, we wonder?
A car drives up.   A couple gets out.
They are in their late fifties.
Suddenly the small group applauds.
It is not a funeral.
The woman is wearing a simple ivory dress with bell sleeves.  He is in a navy suit, a small white flower on his lapel.
We exhale and exchange glances.  We both tear up.  It is, alas, a wedding.  Of course a wedding!   A wedding in midlife.
Reaffirming!   There is life here.  Life has continued.  Is still continuing.
From among the ruins.
Life.