We have disappointed our hosts, again. They left us slippers to use…pantofole…but we have not used them. Le pantofole were left for us, on an embroidered linen towel, next to the bed.
Apparently we are cretins.
But you know, it was not because of us that the glass table exploded yesterday morning at breakfast. It just — shattered.
Il tavolo esplosivo.
For no reason. At what point does tempered glass stop being tempered? Like a person…does it hit its limit, finally, just like the most patient, the most 'tempered', of us?
I have fallen in love, all over again…and yet, like the first time…with a place. Can one fall in love with a place — all over again — a place where they have never been before? My whole life this was here. This has always been here. The cypress trees, the cedars, the green rivers (oh, so green!).
The hills. Mamma mia, the hills!
We are in Firenze. We are in Florence.
I had been told, by a classmate, that Firenze was magical. I had been told that it is important to come before the 'season' actually begins because it is less crowded then. I looked online and discovered that the 'season' begins in less than two weeks.
So here we are.
Both of my grandmothers were named Florence.
I have always been aware that this city existed. I never thought I might have the opportunity to come here.  But both of my grandmothers?  Yes, both Florence.
We took the train on Thursday afternoon, right after my big test in school.
Landscape rushing by (thank you, Frecciarossa…310 km/hr), but for the increasing number of cedars as we moved South, we were reminded, surprisingly, of Wisconsin. We arrived at our temporary residence, grateful for the comfort of the bed and the sheets — and hot shower…and the stunning view of the river Arno, right outside our window.
Truth time: there is only so much information that I can absorb. I wish that I could just "upload" a new language, local history, orienting myself in a new city and a new culture, the horrible news back home — everything…just like Neo in The Matrix. Just plug me in to the mainframe and suddenly I am ready to go. But no, unfortunately that particular technology is not available to me.
The way my brain seems to work is that I absorb huge amounts of visual and auditory stimuli…and ambient information…and then it needs time to be able to process all that I have absorbed. This is why, I have realized, I cannot go from museum to museum to museum…because I get overstimulated and exhausted.
And so, it is because of this that we chose only a few things "to do", da fare.
F had told us that we had to go to the Uffizi first thing in the morning…so that we would arrive with the early sun streaming in…just us, alone with the Botticelli works. Hey, I can take a good suggestion. We booked ahead of time. It was cloudy and dark.
The Uffizi, nevertheless, did not disappoint.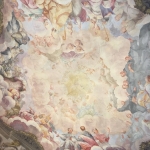 We wandered about the city center, stopping for un caffè and an onion focaccia at Starbene, really good gluten-free bakery close to our hotel before walking and walking to L'Accademia to see Michelangelo's Davide.
And yes, when I saw him, I cried. Actually, cried.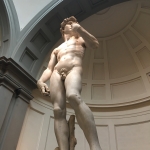 It was still early afternoon when we left but R suggested that we pop over to the sinagoga because it wasn't too far. An amazing moor-ish structure guarded by armed soldiers, we did what we had to do in order to gain entry…some security stuff. Once inside we were overwhelmed by the beauty, the detail, the history of the place. We sat for awhile, reading the prayers written on the walls, absorbing the space.
Immediately next door we popped in at Ruth's for late lunch, right before they closed. It was here that R had the most amazing artichokes — i carciofi alla giudia. Right down to the table wine (il rosso della casa), it was the most simple but the most satisfying meal. Everything prepared perfectly…the flavors unimaginably impressive.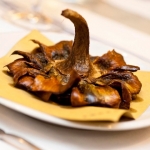 My brain was already on overload…but so so happy.
We walked back to our place, through the super-crowded tourist areas of high-end brand stores, the gelato places, through the chill of late afternoon.
I had a small pisolino so I could process everything I had learned.
The simple foods that we are familiar with in our country —chopped tomatoes and basil on toasted bread with drizzled olive oil (bruschette ai pomodori con basilico), per esempio, these foods are from this part of the country…from the center…from Toscana/Tuscany. Chi è saputo? Who knew?
Who knew that the cheapest table wine in any place here is better than almost anything I have ever had, ever? Who knew that the idea of 'luxury wines' was only brought to Italy from foreigners a few decades ago…that for them…wine was wine…and it was all cheap and all really, really good.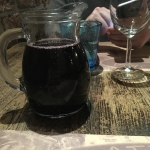 In fact, thirty years ago if you asked for water in a restaurant they just brought you wine, telling you that 'water is for washing your hands'.
I suppose many of you knew…but my brain has, I guess, for many years, been otherwise engaged.
I am arriving late to the party.
My dinner that night a thick, amazing local soup, a Ribollita, cooked down until it was very thick, with vegetables and white cannellini beans…life-changing flavors, accompanied by bruschette ai pomodori con basilico (not yet in season here, but these were from the South — again, flavors miraculous). The bread…the best I have ever eaten, was gluten-free and made in-house.
Bread and soup…a religious experience, truly.
Chilly rain was expected the next morning. We arranged to have ourselves in a transport rather than on foot, to learn more about the wider area.
Up on the hill is the Piazzale Michelangelo. The tallest hill, with a square, overlooking the whole city which will blow your mind.
Una mente, esplosiva.
There is a bronze replica of Michelangelo's Davide. There are olive trees, everywhere around you, their silver leaves reflecting light. Just below the platform where we stood, gardeners were tending the early sprouting of the bearded lilies. Signs told us that in two months there would be a lily festival. We could only imagine how stunning these hills would be, covered in lilies, and we wondered if we could come back here then. Again, despite the clouds, the river, dividing the city below, was green, green, green. I have never seen anything like this, ever.
We are now going on the hill on the other side…there are cedars, cypresses, olive trees. Life imitates art imitates life. Here is a house where Tchaikovsky lived, here is Galileo's house. Here is Machiavelli's place.
Here — in this house — are the instruments which Galileo used when he identified the seas on the moon. Here — in this place — is where Galileo was when he discovered the mountains on the moon.
The mountains on the moon were always there.
But one day, Galileo, on a hillside in Firenze, in his little house, among the cedars and the olive trees and the lilies, Galileo was eating bread and tomatoes. He had a small pisolino so his brain could absorb more information.
The sun set, the stars were visible and he looked up at the moon. Using those instruments, in that little house, he identified mountains. Mountains and seas.
The moon was always there. It lit the evenings when it was bright and frightened the residents when it was dark. And on its surface, even though we were not aware of it…there were mountains and there were seas.
Coming to Firenze, coming to Italia is like discovering mountains on the moon. It has always been here. When I was young, when my two grandmothers were named Florence, there was a city also bearing this name. Such a city I would discover fifty-something years later and I would feel drawn to it.
When I was in school, when I married, when I raised my babies…there was this city on the other side of the world. I didn't study this language when I was young. I didn't know it would kidnap my imagination, my heart.
I had no idea.
Mountains.  On the moon.
This morning the river is a bit more active, rushing a bit more. The rain, I suppose, is having its affect. People are walking across the bridge with umbrellas.
No table shattered at breakfast, thankfully.
I am looking at the gold tones of the buildings, the greens of the cedars…I am memorizing the palette of this place.
I have so many questions. But all of the answers, now, are not mine to have. They are on the darker side of the moon…and with time and with light, someone like Galileo will be able to see them.
For now, we are going back to Starbene to pick up something for the train…and pick our way back, through the drizzle, to the station.
Ah Firenze….ci vediamo presto.