It was late afternoon and we hadn't eaten since early morning.   We were driving the TransCanadian highway and came to Canmore.
We were super starving.
Oh, I said, pointing….let's eat at that place.
The building was golden yellow which is sometimes a good idea and there was parking.
And outside — a jackhammer.   Like a machine gun…but with more concrete dust.
We walked into the restaurant.    Also yellow.     Oilcloth table covers and green chairs.    The owner was trying to drown out the jackhammer by playing loud music:  "sexual healing".
The white board advertised Bison Quesadillas and Salmon Fetticcini Alfredo and other things…and the owner appeared.
He appeared from nowhere, a double of John Turturro (the Hair!) and started to talk with a thick Ukrainian accent…very fast — offering everything on and off-menu, telling me that he could accomodate all my high-maintenance food choices…and delivered hot and pretty good food to us within eight minutes.
I passed on the Bison and ordered vegetable enchiladas.
Everything was hot and bright and good.   Plates were dusted (as were my fingers and my face) with bright yellow turmeric.
But you know, I could barely contain myself.    I could not stop laughing and I hardly knew why.
First, all over the restaurant were Native Canadian beaded necklaces and earring sets, hung on all the walls, all for sale, with large signs "Art Sales to Help Ukraine".     I felt like I was in a flea market for a Native American ceremony I attended a million years ago with my father.  Everything feathers and seed beads…and headpieces and dancing.
But now I was in the Canadian Rockies, forty years later, and a Ukrainian family business was selling these crafts to help Ukraine.
But the owner…the way he was — so very talkative and generous with food and accommodation and information — about his children, about his years at Columbia University, and in the U.S., and his son the concert pianist — and his own side job as a lyricist…
Of course, with the John Turturro face and hair and restaurant he also was talented in a million other ways — a man so displaced it seemed in Canmore…handing me also the CD he helped to produce:  "Vegas in the Rockies".
I was having one of those "you can't make this stuff up" experiences and I couldn't stop myself from being amused.    I was looking around for hidden cameras.   Was I being PUNKED?
This man, our host, was a million different things, all of them unexpected, like finding a unicorn at a mud truck rally.    Except the unicorn also speaks twelve languages and teaches Latin at Oxford.
It was so strange, I was sure I was in a movie — a quirky independent one…something that had been the dark horse comedy at Sundance.
I asked the owner:  do you mind?  May I take your picture?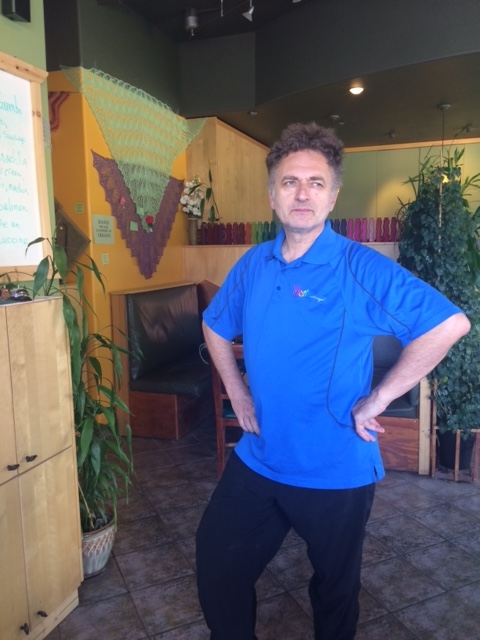 He posed and I clicked.
We paid in Canadian cash, we thanked him and left.
We went out to the white rental car in the parking lot (EVERY SINGLE DARN CAR IN CANADA IS WHITE!) and popped "Vegas in the Rockies" into the CD player.
You cannot even imagine.
Giggling again…we drove the last few miles towards Banff.